Watch The Ring
---
"Before you die, you see"
The Ring is a 2002 horror film starring Naomi Watts, Martin Henderson, David Dorfman and Brian Cox. The chilling plot follows a reporter named Rachel, played by Watts, who must investigate a slew of violent deaths of people that viewed the eerie videotape. Once a victim has watched the video, the telephone will ring and announce to the terrified listener that he or she has only seven more days to live.
Noah is Rachel's friend and colleague, played by Henderson, and is committed to helping Rachel decipher the content of the video tape. After viewing the tape himself, Noah begins to experience a series of bizarre physical and emotional reactions. Rachel and her young son have also viewed the killer videotape and she must race against the clock to solve the mystery of the enigmatic video scenes on the tape before the seven days conclude.
The Ring delves into a nightmare of mental illness, superstition, and the murder of a little girl that was thrown down a well. Not for the faint of heart, The Ring is comprised of chilling footage of frightening abstract scenes, compelling situations and disturbing subject matter.
The pace of The Ring is fast and furious from the first few minutes after the opening credits. By the mid section of the movie, The Ring begins to intensify even more. Cleverly written and brilliantly acted, The Ring is good for thrills and chills from start to finish.
Although The Ring does contain several violent scenes, this movie is not considered a slasher film. The violence is essential to pushing the plot forward and each scene is tastefully and effectively executed.
The Ring was directed by Gore Verbinski and is rated PG-13 for some adult language, violence and disturbing images. Although classified in the horror movie genre, The Ring is also full of mystery and suspense with tricky plot twists and engaging characters. The Ring has many unique scenes exploring the supernatural, madness, and a dead child's revenge, making this film a must-see for the audience that likes a gripping mystery within a horror film.
|
2002
|
1 hr 55 min
|

/

10
Cast

Studio

Director

Gore Verbinski

Language

English
The Ring News
PHOTO: Naomi Watts Is A Spitting-Image Princess Diana
July 02, 2012 @ 1:42 pm PST
|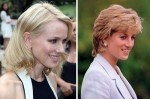 So far, so good: Naomi Watts certainly looks the part of the late Princess Diana of Wales that she's playing in the upcoming "Caught In Flight." The biopic centers upon Diana's post-divorce relationship with heart surgeon Dr. Hasnat Khan. The role was originally to go to Jessica Chastain, who was forced out by scheduling conflicts.
Read More


Watch The Ring Trailer


Watch The Ring Online - Watch online anytime anywhere: Stream, Buy, Rent
The Ring is currently available to watch and stream, buy, rent on demand at Google Play, iTunes online.